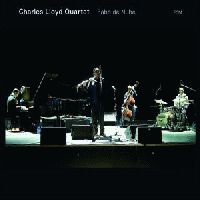 ECM BSIN02836480
Lloyd, Charles / Quartet - Rabo de Nube
Charles Lloyd Quartet - Rabo de Nube
In time for the great saxophonist's 70th birthday on March 15, a rousing set from a revamped Lloyd Quartet, recorded live in Basel in 2007. New to the party, and in an ECM debut, is pianist Jason Moran, whose percussive attack, with its echoes of Monk and Bud Powell, lights fires. Moran already has a history with drummer Eric Harland, intensifying the rhythmic interaction that lifts Lloyd skyward on uptempo workouts including a blistering account of old favourite "Sweet Georgia Bright". There are also tender ballads, including the title track, Cuban songwriter Silvio Rodríguez's "Rabo de Nube" ("tail of a cloud"), a mountaintop meditation with the tarogato ("Ramanujan"), a tribute to Booker Little, and more. CD booklet includes concert photography as well as verse by prizewinning poet Charles Simic which nicely characterizes both the "rural" and "city" aspects of Charles's sound.
Charles Lloyd (tenor saxophone, alto flute, tarogato), Jason Moran (piano), Reuben Rogers (double-bass), (Eric Harland drums)
Tracklisting:
1. Prometheus
2. Migration of Spirit
3. Booker's Garden
4. Ramanujan
5. La Colline de Monk
6. Sweet Georgia Bright
7. Rabo de Nube
Recorded live April 2007
Released 2008.
Price: 18,50 EUR