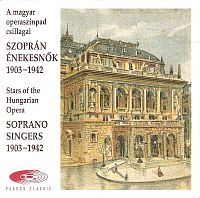 Pannon Classic BSIN03555849
Various Artists - Stars of the Hungarian Opera - Soprano Singers 1903-1942
Composer: Pál Ábrahám, Georges Bizet, Léo Delibes, Ferenc Erkel, Karl Goldmark, Jacques Fromental Halévy, Franz Lehar, Wolfgang Amadeus Mozart, Giacomo Puccini, Giuseppe Verdi, Richard Wagner
Various Artists - Soprano Singers 1903-1942.
Italia Vasquez, Erzsi Sándor, Anna Medek, Teréz Krammer, Anna Gyenge (Anne Roselle), Mária Németh, Lujza Szabó, Gitta Alpár, Márta Eggerth, Ilonka Szabó, Esther Réthy.
16 Tracks. Recorded 1903-1942.

From the very outset, grammophone record edition was a commercial issue. The principle was, business above all and records with opera singers were mostly limited to their popular repertoire. These pieces were not necessarily opera arias but also drew from popular pieces of operett, vaudeville, or Italian airs. In Hungary, numerous opera singers increased their popularity by means of grammophone records featuring dance tunes, Hungarian Gypsy tunes and Jazz pieces.
It should be noted though, that tenors have been the primary stars of that period, due to the immortal popularity of Enrico Caruso. Due to this all over the world significantly less records have been taken with female singers, as demonstrated by the small number of grammophone records with Hungarian sopranos, too. Amongst the few, the majority have been produced at Berlin rather than at Budapest. This is due to the fact that in Hungary for a long time only temporary sound studios existed, and in the years following World War I, in Hungary no recording equipment at all was available and artists had to travel to Vienna, Prague, Berlin or London in order to participate in recordings.
It is noteworthy that the pieces of the CD introducing four decades of Hungarian sopranos could not only be heard at the opera houses, but have also been interpreted by military, coffeehouse, hotel, salon, dance and gypsy orchestras. If a certain piece was adapted by various orehestras besides the opera genre, and was also featured in promenade concerts frequently next to free admission, the chance was much bigger it was noted by a larger public. As in the case of grammophone records, merchantability was the primary aspect and therefore they frequently quote popular contemporary opera and operette hits.
Characteristically for the period and for the requirements of grammophone record publishers, pieces frequently were not recorded in their original language such as Italian (Verdi, Puccini), but in German translation, and in numerous cases the translator is not known. We are able to enjoy, though, next to a contemporary Hungarian translation pieces of Delibes and Wagner.
The sequence of pieces on this CD is determined by the date of the recording. In those days frequently a recording was distributed a few days after it was taken. Thus we are able to listen to the various recitals in the same seqence they have been recorded, then rapidly hit the market, and were received by contemporary fans.
Released 2005.
Price: 13,90 EUR