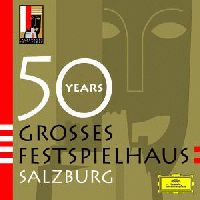 DG BSIN03666926 (25 CD-Set)
Various Artists - 50 Jahre Grosses Festspielhaus (Limited Edition) (25 CD-Set)
The Grosses Festpielhaus in Salzburg has been the scene of countless memorable musical events - operas, concerts and recitals - for 50 years. Here is a unique chance to celebrate the glories of this distinguished era.
In an exceptional collaboration with the Salzburg Festival, we have prepared a 25-CD box set - 5 complete operas, 10 concerts and 2 recitals - featuring many of the world's greatest artists, in recordings with classical status and others that are appearing on CD for the first time.
Concerts (five out of ten are first-time releases): with Abbado, Bernstein, Boehm, Boulez, Karajan, Levine, Mehta, Muti, Solti.
Soloists include Anne-Sophie Mutter and Jessye Norman. The Wiener Philharmoniker feature prominently; individual concerts with Berliner Philharmoniker, Chicago Symphony Orchestra and the Gustav Mahler Youth Orchestra.
Recitals:
two exceptional concerts with Alfred Brendel (first release) and the Martha Argerich/Nelson Freire duo-concert from 2009.
Works:
1960 - Strauss: Der Rosenkavalier (Della Casa, Jurinac, Güden, Edelmann, Wien PO, Karajan)
1961 - Mozart, Idomeneo (Kmentt, Grümmer, Lorengar, Haefliger, Wien PO, Fricsay)
1966 - Mozart: Symphonien Nr. 40 & 41 (Wien PO, Böhm)
1967 - Schubert: Symphonie Nr. 3;Strauss: Ein Heldenleben (Wien PO, Mehta)
1975 - Mahler: Symphonie Nr. 8 (Price, Blegen, Baltsa, Prey, Wien PO, Bernstein)
1982 - Haydn: Die letzten sieben Worte (Wien PO, Muti)
1987 - Wagner: Siegfried-Idyll;Tannhäuser-Ouvertüre Vorspiel & Liebestod aus Tristan (Norman, Wien PO, Karajan)
1988 - Tschaikowsky: Violinkonzert (Mutter, Wien PO, Karajan)
1991 - Beethoven: Missa solemnis (Studer, Norman, Domingo, Moll, Rundfunkchor Leipzig, Wien PO, Muti)
1992 - Berlioz: Symphonie fantastique;Liszt: Les Preludes (Chicago SO, Solti)
1992 - Janacek: Aus einem Totenhaus (Ghiaurov, Szmytka, Langridge, Zednik, Wien PO, Abbado)
1994 - Tschaikowsky: Symphonie Nr. 6;Der Sturm (Berlin PO, Abbado)
1997 - Strawinsky: Le Sacre du Printemps;Bartok: 4 Orchesterstücke;Boulez: Notations (Mahler Jugendorchester, Boulez)
2005 - Verdi: La Traviata (Netrebko, Villazon, Hampson, Wien PO, Rizzi)
2007 - Tschaikowsky: Eugen Onegin (Mattei, Samuil, Kaiser, Furlanetto, Wien PO, Barenboim)
2007 - Alfred Brendel Recital: Haydn, Klaviersonate Nr. 20, Beethoven, Klaviersonate Nr. 31;Schubert, Impromptu D. 935 Nr. 1, Mozart, Klaviersonate c-moll KV 457
2009 - Nelson Freire & Martha Argerich Recital: Brahms, Haydn-Variationen op. 56b;Rachmaninoff, Symphonische Tänze op. 45;Schubert, Rondo D. 951;Ravel, La Valse
Released 2010.
Price: 69,90 EUR