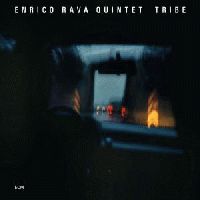 ECM BSIN03749195
Rava, Enrico / Quintet - Tribe
Enrico Rava (trumpet), Gianluca Petrella (trombone), Giovanni Guidi (piano), Gabriele Evangelista (double-bass), Fabrizio Sferra (drums), Giacomo Ancillotto (guitar)
Tracklisting:
1. Amnesia
2. Garbage Can Blues
3. Choctaw
4. Incognito
5. Cornettology
6. F.Express
7. Tears For Neda
8. Song Tree
9 Paris Baguette
10. Planet Earth
11. Tribe
12. Improvisation
Released 2011.
Since his return to ECM with "Easy Living" in 2003, the grand master of Italian jazz has gone from strength to strength, in a series of truly exceptional recordings including "Tati", "The Words and The Days", "The Third Man", and "New York Days".
Enrico Rava is currently playing at a peak of lyrical invention, and his newest Italian quintet is amongst his strongest ensembles. Gianluca Petrella is retained from "The Words and the Days" line-up. Voted Rising Star Trombonist in the Down Beat Critics Poll of 2005, he has a front-line relationship with Rava which recalls Enrico's affinity with Roswell Rudd back in the heyday of the New Thing. Fast-moving, quick-witted exchanges abound. Enrico has always encouraged younger musicians, and pianist Giovanni Guidi (born 1985) is a real find, a player of creativity and imagination: "When I notice the gifts of a young musician, I immediately involve him in my groups. This is not motivated by altruism," Rava insists. "Giovanni Guidi is like Bollani and Petrella: he astounds me every time." Bassist Gabriele Evangelista (b. 1988), another young player of promise, works splendidly alongside widely-experienced drummer Fabrizio Sferra, whose resume includes work with Chet Baker, Paul Bley and Kenny Wheeler. Material on "Tribe" includes new and old tunes by Rava and a brace of collective improvisations. The album was recorded at Arte Suono Studio in Udine in October 2010, with Manfred Eicher producing.

Price: 18,50 EUR