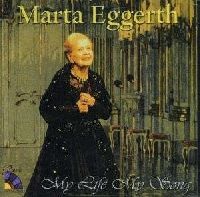 Patria BSIN03805426 (2 CD-Set)
Eggerth, Marta - My Live, My Song (2 CD-Set)
Composer: Paul Abraham, Sasha Alexander, Vincenzo Bellini, Frédéric Chopin, Franz Grothe, Arthur Guttmann, Charles Kálmán, Emmerich Kálmán, John Kander, Istvan Kókay, Fritz Kreisler, Franz Lehár, Hans May, Edmund Nick, Giacomo Puccini, Maurice Ravel, Gioacchino Rossini, Rudolf Sieczynki, Robert Stolz, Johann Strauß (Sohn), Elemer Szentirmay
Patria Productions Inc. is proud to announce the release of a dual CD album of soprano Marta Eggerth, star of stage and screen. A living legend from the world of operetta, lieder and European movies, this CD album represents a 73 year recorded legacy of recordings from the early 1930s to the present.
Marta Eggerth made some 40 movies mostly in Europe before World War II and appeared in numerous operetta roles most notably as Hanna Glawari in Lehar's The Merry Widow on Broadway together with her husband, the Polish tenor Jan Kiepura.
This album contains her most famous repertoire including selections by Franz Lehar, Emmerich Kalman, Robert Stolz, Paul Abraham and other operetta luminaries, who specially wrote works for her. She has established herself as one of the most famous exponents of the operetta genre till today.
Divided into two CDs, CD-1 includes her early opera recordings of Puccini, Bellini and Rossini and her many songs made famous by her movies.
CD-2 are recordings spanning from 1955 to 2002 of her favorite numbers including her own arrangement of medleys from The Merry Widow, Kalman's Princess Czardas, songs from Robert Stolz and John Kander as well lieder selections from Ravel and Chopin.
Mme Eggerth is heard in six languages. Extensive booklet notes are provided with many photos from her illustrious life as a singer and movie star. There are previously unreleased material and live excerpts from recent concerts.
Marta Eggerth remains active singing till today at nearly 98 years of age.
Tracklist:
CD 1:
1. Il Barbiere di Siviglia (Der Barbier von Sevilla, Oper in 2 Akten) (Auszug): Una voce poco fà (3:29)
2. Sì. Mi chiamano Mimì (4:28)
3. Musetta's waltz (2:26)
4. Occhi puri che incantate (3:12)
5. An der schönen blauen Donau (bearb. von F. Grothe) (3:55)
6. Frühlingsstimen-Walzer (bearb. von F. Frothe / C. Amberg) (4:08)
7. Es war einmal ein Walzer (2:49)
8. Einmal kommt Einer (3:23)
9. Ich könnte jetzt zu Ihnen sagen "I love you" (3:31)
10. Frühling, Frühling und ich bin so selig (3:07)
11. Warum hat jeder Frühling ach nur einen Mai (2:40)
12. Ich sing' mein Lied heut' nur für dich! (3:14)
13. Ich bin heut' so froh (2:44)
14. Eh' ich Dich gesehen (Piros pünkösd napján) (3:13)
15. War es dein Lächeln (3:21)
16. Ich such' was, ich brauch' was (2:56)
17. Mir fehlt ein Freund wie du (3:24)
18. Kann nicht küssen ohne Liebe (2:57)
19. Du traumschöne Perle der Südsee (2:43)
20. Wunderschön ist es, verliebt zu sein (3:04)
21. Denkst du nie daran? (3:02)
22. Die ganze Welt dreht sich um Liebe (2:54)
23. Schau mich an, sei mir gut (2:47)
24. Mon Coeur à toi se donne (3:05)

CD 2:
1. Mein Liebeslied muß ein Walzer sein (3:37)
2. Ich liebe dich (3:13)
3. Eine wird kommen (3:19)
4. Neapolitan duet (3:33)
5. Das Lied ist aus (4:03)
6. Spiel auf deiner Geige das Lied von Leid und Lust (3:54)
7. Sárbogárd Dombovar (Musikant, Musikant, wo ist deine Heimat?) (2:35)
8. The old refrain (3:05)
9. Que j'aime Paris (1:57)
10. Air de l'enfant (1:28)
11. Nr. 1: Zyczenie (Witwicki) (1:42)
12. Nr. 14: Pierscien (Witwicki) (1:51)
13. Dumka (1:26)
14. Czardasfürstin (Medley) (5:34)
15. Csak egy kislány van a világon (There is only one girl in the world) (1:43)
16. Im Prater blüh'n wieder die Bäume (3:07)
17. Married (2:39)
18. Wien, du Stadt meiner Träume (Wien, Wien, nur du allein) (3:16)
19. Merry wido (Medley) (5:35)
Released 2005.
Price: 25,90 EUR