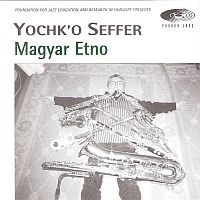 Pannon Jazz BSIN04203752
Seffer, Yochk'o - Magyar Etno
Yochk'o Seffer: Magyar Etno
Yochk'o SEFFER (vacuum-cleaner [malabar]-1, Korg piano-1,7,10, as-1, bass-sax-1,4,9, sopranino sax-2,10,13, ts-3,5,6,7,11,12,14, bcl-8,15), Thierry Maillard (synth-13)
Tracklist:
1. Porszívózás (Trabla Air) (Vacuum-cleaning)
2. Csalódott Lady (Deceived Lady)
3. Bülent
4. Kék páva (Pain bleu)
5. Kótyagosan (Feeling Tipsy)
6. Kimegyek a mezore aratni (Gonna Go Harvestin)
7. Epistrophy
8. Vörös torok (Red Throat)
9. Billentyük C hangulatban (Keys in C Mood)
All music composed by Yochk'o Seffer, except Thelonious Monk (7).
Recorded at the HSB Studio, Dunakeszi, Hungary, 25-27 January 1996 (1-8) & Live in Concert at the JAMK, Dunakeszi, Hungary, 26 January 1996 (9).
Released 1997.

Saxophone player Yochk'o Seffer, who was born József Seffer in the East-Hungarian city of Miskolc, made a cereer in Paris (also as a sculptor/performance artist) after he had emirated following the 1956 revolution. The recordings of his first CD made in Hungary took place not far from Budapest, in the town of Dunakeszi in 1996. Some of the recordings were made live in concert, where he also played on his self sculpted "vacuum-cleaner", besides different saxophones and piano.
Seffer started his musical studies in Hungary, but graduated lrom the Paris National School or Music. where he has been teaching music arrangement since. He accompanied many vocalists even Charles Aznavour, but since the end of the sixties he devoted himself to playing jazz only. He has collaborated with the French drummer Christian Vancler in the band Magma, piano player Franccis Gahen, and later founded the group ZAO and Neffesh Music, which included four strings. Another formation he led was a saxophone septet. He has toured in the United States many times, alongside such names as Tony Scott, fellow Hungarian Mihály Ráduly, ancl appeared with Dave Liebman. Phil Woods, Pharoah Sanders, Steve Lacy. Charlie Rouse, and Archie Shepp. Last year he featured Ornette CoIeman on his CD Ornette Forever.
Magyar (Hungarian) Etno is a fascinating re-evaluation of Seffer's ethnic and cultural roots. The idea was born when he played a concert at a Hungarian festival in 1995. Producer Géza Gábor Simon, leader of the Pannon Jazz label offered him the possibility, as they have known each other for a decade. It is not simply the birth of some new musical material, but rather a synthesis of what Seffer achieved in music during his fruitfilcareer: he plays sopranino, alto tenor and bass saxophones, Karg piano, besides his very own malabár. The title refers to what he calls Hungarian-oriented folk-songs, in fact his own compositions, and the improvisation that emerges from them. They are mostly pentatonic melodies, signalling the way of how Seffer. living far away from his native country could preserve his national and ethnic identity. He plays All instuments himself, the only setting that goes well with the tone of his musical confession, this is how he could find his inner world. This is why it is a special bonus, that some of the recording was made in concet, bringing across the confession of the artist to the ideal audience, Hungarian concert-goers, right away at the moment of his birth.
Hopefully, the issuing of the CD enables a wider circle of people to get an insight into the fascinatingly idiosynctatic, highflying confession of Yochk'o Seffer.
Kornél Zipernovszky, Jazz Editor of Gramofon, The Hungarian CD Review.
Price: 13,90 EUR