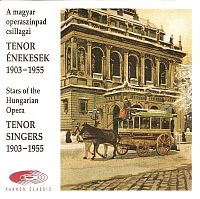 Pannon Classic BSIN04249734
Various Artists - Stars of the Hungarian Opera - Tenor Singers 1903-1955
Composer: Adolphe Adam, Ferenc Erkel, Karl Goldmark, Franz Lehar, Pietro Mascagni, Wolfgang Amadeus Mozart, Otto Nicolai, Jacques Offenbach, Ede Poldini, Giacomo Puccini, Giuseppe Verdi, Richard Wagner
Various Artists - Tenor Singers 1903-1955.
György Anthes, Deszö Arányi, Béla Környei, Kálmán Pataky, Jószef Gábor, Zsigmond Pilinszky, János Hatmos, Miklós Szedö, Jószef Járay, Pál Fehér, Pál Fekete, János Sárdy, Joszef Simándy, István Laczó.
18 Tracks. Recorded 1903-1955.

Naturally the tenor fever triggered by Enrico Caruso closed in on Hungarian opera singers too. As the years passed by a great number of recordings by some of them has been realised, others can be traced only in a few instances in the repertory of Hungarian and foreign labels. West European record labels sooner or later published a small section of these recordings on microgroove records, partly due to the more significant demand on the international plane as compared with the Hungarian market. Generally these were included into large series of LP's, and as of late, also into a whoie row of CD editions.
As for Hungary, onlya very limited number of CDs containing recordings of opera tenors has been published here and there. So far individual CD editions have been compiled only from the recordings of Bela Környei (Pannon Classic PCL 8020), Pal Fekete (Pannon Classic PCL 8021), and Jozsef Simandy (Hungaroton Classic HCD 16880 es HCD 31726). We dedicate space to the three of them in the present compilation.
The present CD contains selected recordings of 14 opera tenors dating from the period from 1903 to 1955. The very first recording of this collection has been achieved on a phonograph cylinder. Most have originally been captured onto a 78-rpm shellac record and the last ones have already been recorded to tape. Thus the sound image of the original recordings varies greatly and we have endeavoured to make use of modern sound restauration techniques in order to attain best possible CD quality.
The recordings are arranged in a chronological sequence and therefore, in kind of a time lapse, you rnay listen to them in the sequence they have been purchased and enjoyed by contemporary opera fans.
As for the composers, you will meet with both Hungarian and foreign masters of the opera and the operetta. We have restrained from selecting recordings by these opera singers from other genres like dance music, jazz, Hungarian or Italian chansons etc., but would like to draw your attention to the fact that a good number of such recordings does exist.
Released 2006.
Price: 13,90 EUR