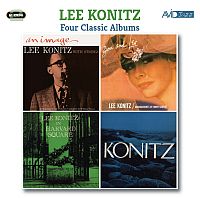 Avid Jazz BSIN04307627 (2 CD-Set)
Konitz, Lee - Four Classic Albums (2 CD-Set)
AVID Jazz here presents four classic Lee Konitz albums including original LP liner notes on a finely re-mastered and low priced double CD.
"An Image Lee Konitz With Strings", "You And Lee", "In Harvard Square" and "Konitz"
Jazz meets classical for our first selection "An Image"……perhaps?! Certainly William Russo's arrangements to these songs add an extra dimension to the playing of Lee Konitz and a classical string quartet does rather enhance the classical flavour! The second selection "You And Lee" was, according to arranger Jimmy Giuffre, influenced by the old Jimmie Lunceford band where the six piece brass section would all rise to perform ballads bathed in a warm coloured light creating a wonderful mood with their closed muted horns. Artists appearing on this fine album include, on horns, Ernie Royal, Marky Markowitz and Phil Sunkle on trumpets; Bob Brookmeyer, Eddie Bert and Billy Byers on trombones; Lee on alto plus Bill Evans on piano, Sonny Dallas on bass, Roy Haynes on drums and Jim Hall on guitar. As mentioned in the original liner notes Lee is finally able to leave the Charlie Parker and Lester Young influences behind and become Lee Konitz! "In Harvard Square" is a driving four piece recording with Lee searching for freedom alongside Jeff Morton, Al Levitt, Peter Ind and Percy Heath- "Let real playing begin!". "Konitz" features the same band minus Heath and is the first time Lee had gone into the studio as front man and leader with his own handpicked sidemen. Recorded in Lee Tristano's studio the Lee Konitz quartet "can take its place alongside the most important musical groups in jazz."
All four albums have been digitally re-mastered.
Tracklist:
CD 1:
1-9: 'An Image'
1. 'Round Midnight
2. The Daffodil's Smile
3. I Got It Bad
4. Music For Alto Saxophone And Strings, Part 1
5. Music For Alto Saxophone And Strings, Part 2
6. Music For Alto Saxophone And Strings, Part 3
7. What's New
8. Blues For Our Children
9. An Image Of Man, Parts 1-7
10-16: 'You And Lee'
10. Ev'rything I've Got (Belongs To You)
11. You Don't Know What Love Is
12. You're Driving Me Crazy
13. I Didn't Know About You
14. You're Clear Out Of This World
15. The More I See You
16. You Are Too Beautiful

CD 2:
1: 'You And Lee'
1. I'm Getting Sentimental Over You
2-11: 'In Harvard Square'
2. No Splice
3. She's Funny That Way
4. Time On My Hands
5. Foolin' Myself
6. Ronnie's Tune
7. Froggy Day
8. My Old Flame
9. If I Had You
10. Foolin' Myself
11. Ablution
12-19: 'Konitz'
12. Easy Livin'
13. Nursery Rhyme
14. Limehouse Blues
15. I'll Remember April
16. Skylark
17. Mean To Me
18. East 32nd
19. Bob Goes The Leesel
Released 2012.
Price: 15,90 EUR