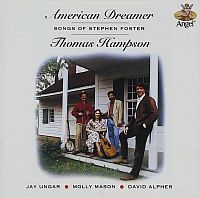 Angel BSIN05144167
Hampson, Thomas / Ungar, Jay / Mason, Molly / Alpher, David - American Dreamer (Songs of Stephen Foster)
Thomas Hampson discovers the music of Stephen Foster, America's first popular songwriter. With his music, Foster captured the broad scope of the American landscape during its turbulent formative years.
Thomas Hampson (baritone), Jay Ungar (violin), Molly Mason (guitar), David Alpher (piano). Peter Ecklund (cornet), Matt Glaser (violin), Garrison Keillor (vocal harmony), Arnie Kinsella (percussion), John Kirk (vocals), Micheal Parloff (flute), Mark Rust (vocals), Evan Stoker (violin, viola).
Tracklist:
1. Opening, Violine solo
2. Jeanie With The Light Brown Hair
3. Hard Times come Again No More
4. The Voice Of Bygone Days
5. Foster Favorites Medley
6. Open Thy Lattice, Love
7. Beautiful Dreamer
8. That's What's The Matter
9. Old Home Medley
10. Molly! Do You Love Me?
11. Sweetly She Sleeps, My Alice Fair
12. Comrades, Fill No Glass For Me
13. Dancing On The River
14. My Wife Is A Most Knowing Woman
15. Gentle Annie
16. Linger In Blissful Repose
17. Ah! May The Red Rose Live Alway
Recorded 1992.
Released 1992.
Price: 18,90 EUR