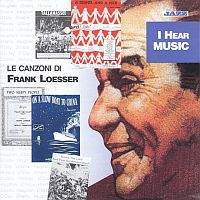 Musica Jazz BSIN05424768 MJCD1143 (10/2001), Zeitschrift plus AUDIO-CD, Nr. 10/2001, Italienisch, PB, Zustand: Neu
Various Artists - I Hear Music: Le canzoni di Frank Loesser
Die monatlich erscheinende italienische Jazzzeitschrift mit AUDIO-CD.
In dieser Ausgabe:
Sonny Rollins: Intervista Esclusiva, Pat Metheny: Viaggio in Italia, L'Estate Jazz etc.
Die AUDIO-CD enthδlt 26 Aufnahmen der grφίten Erfolge des Komponisten Frank Loesser.
Recorded 1934-1950.
Tracklist:
1. Johnny Mercer, Margaret Whiting – Baby It's Cold Outside
2. Mildred Bailey – Junk Man
3. Valaida Snow – I Wish I Were Twins
4. Hoagy Carmichael, Ella Logan – Two Sleepy People
5. Billie Holiday – Says My Heart
6. Mildred Bailey – Small Fry
7. Maxine Sullivan – Moments Like This
8. Eddie "Rochester" Anderson – My! My!
9. Irene Daye – I Hear Music
10. Bing Crosby, The Merry Macs – Dolores
11. Bea Wain – That's How I Got My Start
12. Anita O'Day – "Murder" He Says
13. The Southern Sons – Praise The Lord And Pass The Ammunition
14. Frank Loesser – Bloop-Bleep
15. Nellie Lutcher – The Lady's In Love With You
16. Al Hendrickson – On The Slow Boat To China
17. Betty Hutton – Rumble, Rumble, Rumble
18. Bing Crosby, The Andrews Sisters – Tallahassee
19. Frank Sinatra – Once In Love With Amy
20. Frank Loesser – Luck Be A Lady
21. Sarah Vaughan – I'll Know
22. The Andrews Sisters – A Bushel And A Peck
23. Frankie Laine, The Jud Conlon Singers – If I Were A Bell
24. Sarah Vaughan – Can't Get Out Of This Mood
25. Nat King Cole – Tunnel Of Love
26. Pearl Bailey, Oran "Hot Lips" Page – Baby It's Cold Outside
Released 2001.
Price: 12,90 EUR