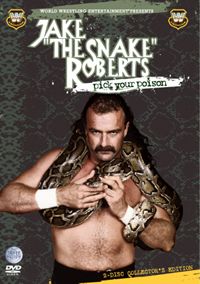 Clearvision BSIN02282480 (2 DVD-Video)
WWE - Jake The Snake: Pick Your Poison
Jake "the Snake" Roberts: Pick Your Poison reveals the real story behind the legend. Get insights into the man who instilled horror into the hearts and minds of Hulk Hogan, "Macho Man" Randy Savage, Ricky Steamboat, Ultimate Warrior and others as he battled in some of the biggest matches of the 1980s and '90s.
Hear what it was like to carry a live, 70-pound snake. Go behind the scenes and learn more about the controversial battles with Jerry "The King" Lawler.
Listen as he reveals family tragedies, drug addictions and the personal demons that diverted his remarkable career.
A master storyteller, Jake Chronicles his amazing career highlights and unimaginable lowlights.
Plus 4 hours of extras, including many complete matches:
vs. Ricky Steamboat, Snake Pit Match, The Big Event - 28/08/86
vs. Honky Tonk Man, Wrestlemania III - 29/03/87
vs. Ravishing Rick Rude, Rude Awakening vs. DDT Match, MSG - 24/10/88
w/Ricky Steamboat vs. Jim Nelson & Mike Miller, Mid-Atlantic - 09/09/81
vs. Ronnie Garvin, World Television Championship Match, Georgia Championship - 12/03/83
vs. Leaping Lanny Poffo, MSG - 16/03/86
vs. Sting, Coal Miner's Glove Match, Halloween Havoc - 25/10/92
vs. Dirty White Boy, Smoky Mountain Heavyweight Championship, Smoky Mountain Wrestling - 07/05/94
vs. Stone Cold Steve Austin, King of the Ring Final - 23/06/96
vs. Jerry "The King" Lawler, SummerSlam - 18/08/96
w/Tommy Dreamer vs. Justin Credible & Jack Victory, November 2 Remember - 01/11/98
The Snake Pit Moments with Hulk Hogan and Junkyard Dog
Classic interviews & promos with Vince McMahon, Brother Love, Mene Gene Okerland and more
Languages: English, Approx running time 341 mins.
Price: 34,50 EUR