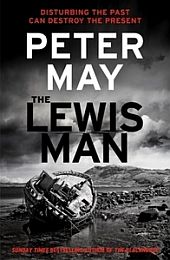 Quercus BSIN05139458 2012, Englisch, PB, 448 S., Format: 19,5 x 12,8 x 3,2 cm
May, Peter - The Lewis Man
Klappentext:
THE SUNDAY TIMES BESTSELLING SEQUEL TO THE BLACKHOUSE BOOK TWO IN THE MILLION-SELLING LEWIS TRILOGY
'One of the best regarded crime series of recent years' Independent
A MAN WITH NO NAME
An unidentified corpse is recovered from a Lewis peat bog; the only clue to its identity being a DNA sibling match to a local farmer.
A MAN WITH NO MEMORY
But this islander, Tormod Macdonald - now an elderly man suffering from dementia - has always claimed to be an only child.
A MAN WITH NO CHOICE
When Tormod's family approach Fin Macleod for help, Fin feels duty-bound to solve the mystery.
LOVED THE LEWIS MAN? Read book 3 in the Lewis trilogy, THE CHESSMEN
LOVE PETER MAY? Buy his latest frontlist thriller, A SILENT DEATH
Zusammenfassung:
The second instalment in the Lewis trilogy.

Peter May was born and raised in Scotland. He was an award-winning journalist at the age of twenty-one and a published novelist at twenty-six. When his first book was adapted as a major drama series for the BCC, he quit journalism and during the high-octane fifteen years that followed, became one of Scotland's most successful television dramatists. He created three prime-time drama series, presided over two of the highest-rated serials in his homeland as script editor and producer, and worked on more than 1,000 episodes of ratings-topping drama before deciding to leave television to return to his first love, writing novels.
He has won several literature awards in France, received the USA's Barry Award for The Blackhouse, the first in his internationally bestselling Lewis Trilogy; and in 2014 was awarded the ITV Specsavers Crime Thriller Book Club Best Read of the Year award for Entry Island. Peter now lives in South-West France with his wife, writer Janice Hally.
Price: 13,90 EUR